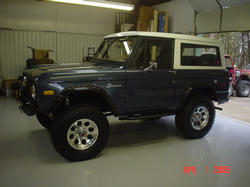 When you are ready to have your old steed freshened up to last the next 30+ years and want some nice amenities, we're the ones to hook you up.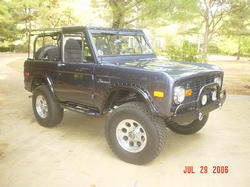 Classic looks with modern styling. We build what we call a "Street Cruiser".

With the investment it takes to redo one like this, it usually doesn't see much "tear it up" action. They now become a great cruise around town, short trip, fun to drive truck. Show'n Shine ready for the cruise in enthusiast.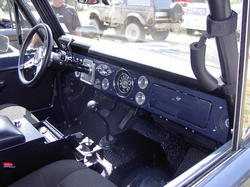 With updated interior, you can now have ice cold A/C, built in stereo speakers, billet accessories and more all in dash. Add some sporty seats, 3 point seat belts,console, maybe some high end stereo gear, family cage for safety.... what ever you feel you need to complete your dream we can do it. Custom carpeting, headliners and leather work are available as well.


If you'd like to discuss the possibility of having us handle a freshen up/ make over for you. just shoot an email to us.
Think about what you'd like, what you can afford and we'll see if there's room in the schedule for you.
All projects like this are based on time & materials. This way it's fair for everyone. wether you need a complete frame off, chem stripped rebuild, or just a minor freshen up. we can do what ever it takes to get you into the bronco of your dreams.
Don't currently own a bronco, but have to have one of these beauties? NO PROBLEM!. We can hook you up with one to build into your very own. It will be custom designed for your tastes & needs.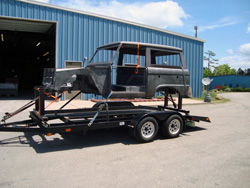 When you are ready to have a complete custom truck build from the ground up just for you, this is how we do it. This is what a Bronco looks like after it's been completely Chem-Stripped. This is "chemotherapy" for a Bronco. 100% rust free now, all rust cells are dead & loose rust is gone. This process cleans deep inside every nook & cranny. Media blasting doesn't clean inside the panels or kill rust. This does. It is well worth the cost to do it right the first time.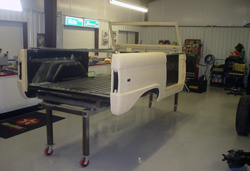 We'll take it all the way back to where it's one piece. All the metal work & repair gets taken care of correctly. Here is one build that is about ready to go to the body shop to be put in color. The interior & underside has had a spray on bedliner material applied. This encapsulates the tub, sealing it up to prevent future potential rust issues, deadens sound & helps insulate it.



Time to get serious? Send us an email and we can discuss the parameters of your restoration or upgrade project.

Nick Menudier Owner/Partner - nick@nickstrix.com