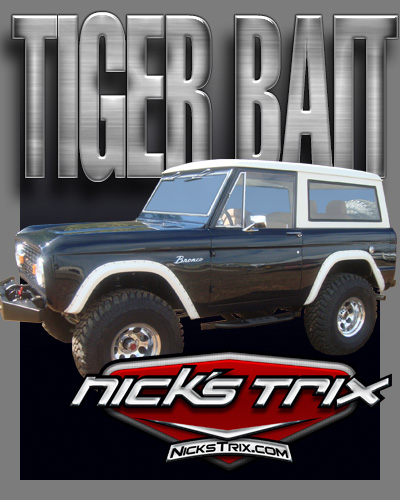 "Tiger Bait"
1969 Ford Bronco custom built by
Nick's Trix Custom Fabrication 2013-14
This truck had spent its whole life at an exclusive hunt club on an island on the Mississippi river. Through the years it's hauled many a truck load of hunters through the thick mud and brush to get to those prime hunting spots.

The large bully bar up front was used to haul outboard motors from the lodge to the john boats. This Bronco had many repairs and modifications that where done on the island with what was available to work with.

"Tiger Bait" was used hard and put away wet and muddy many times through its 40+ years. The new owner will now be using it as a corporate cruiser and keeping it on the mainland. He wanted a balance of modern and vintage and is very excited about ushering the truck into it's next phase of life.

It's always fun to see them transform from a diamond in the rough to a jewel.

Oh, the stories they could tell if they could talk....